Smoke & Fire Damage Restoration in Steamboat Springs, CO
Smoke that has coated or penetrated surfaces continues to affect the chemical composition of fabrics, metals, walls, ceilings, and even tiles. This residue left behind after a fire is a biohazard and can cause health problems if it is not taken care of correctly and thoroughly. You do not want to attempt to clean up on your own after a fire, or you may cause more costly damage.
Count on us to handle every aspect of the process for soot and smoke damage restoration in Colorado Springs. We are your trusted team of experts with the right training and tools to assure the job is done properly. Service Master Cleaning & Restoration by SteamExpress serves the Routt, Moffat, and Grand county areas with 24/7/365 fire damage restoration services.
Fire & Smoke Damage
You may have restrained the fire to one part of the house, but it's the smoke that does the real damage!
Smoke that has covered or penetrated the surfaces of your flooring, walls, ceiling, furniture, and upholstery causes a lot of damage. The residue after a fire causes severe health issues unless it is removed properly. DO NOT attempt to clean up yourself after a fire.
ServiceMaster technicians are specialists in cleaning up after fire damage no matter how widespread the damage is.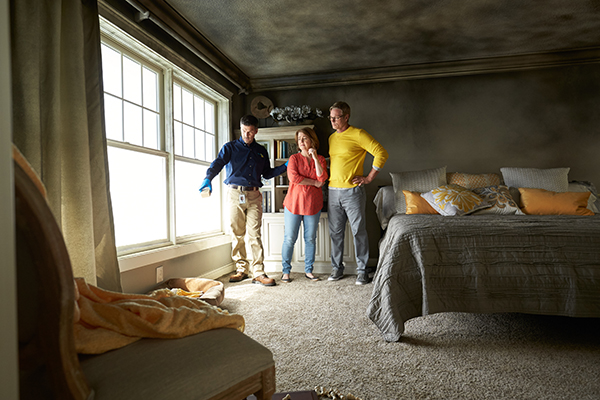 Our process for fire and smoke damage restoration in Colorado Springs involves the following:
Inspecting the structure of the building.
Assessing and repairing any areas affected by water and/or fire damage.
Removing valuables, sensitive materials and items that are completely damaged by smoke and soot.
Addressing damaged structures and deodorizing surfaces.
Returning all items to their original position.
What makes ServiceMaster different?
We provide services around the clock. Fires can break out at any time of the day or night, and ignoring the damage only makes it worse.
We're leaders in the industry with more than 60 years of experience in residential and commercial cleaning and restoration.
We're fully licensed and insured.
We use advanced cleaning and restoration methods.
We have IICRC-certified restoration technicians, and we provide them with ongoing training so they can provide the best service.
We'll cooperate fully with your insurance company and restore your property to the best of our ability within the given budget.
Why Choose Us?
24/7/365
Quick response and action are critical. The more time that elapses before treatment, the greater the damage.
Industry Leadership
For more than 60 years, we have come through for home and business owners as a highly reputable, licensed, insured and endorsed provider of fire and smoke restoration services.
Best-of-Class Methods
Our methods and processes meet or exceed industry standards
IICRC Trained Restoration Technicians
Our experts have completed advanced training in fire mitigation, restoration and corrosion control. We also require Continuing Education to learn about new techniques and equipment to better serve you in your time of need.
Insurance Capabilities
We understand that as the business owner or property manager, you deserve clear and thorough communication, and we will give our full cooperation to both you and your insurance claims representative.