Residential Tile & Grout Cleaning
Over time, tile floors and surfaces lose their shine and luster. Scrubbing and mopping do not generally yield the results needed for a deep clean. Because grout is porous and absorbs all the dirt and debris on it, mopping only removes surface soil and not the embedded dirt that causes the grout to become dull. ServiceMaster Cleaning and Restoration by SteamExpress serves Routt, Moffat, and Grand Counties and can restore tile and grout to a better clean. Our grout-sealing product helps maintain the cleaned grout for months and makes your regular home maintenance more effective. And, if your grout is discolored or you want to update the look, we offer grout re-coloring services in a variety of colors to suit your style.
You clean the dishes. We'll clean your tile and grout
Beyond just improving the appearance of tile and grout, professional cleaning by ServiceMaster Clean has several benefits:
It can help extend the life of floors by removing debris that can weaken the tiles
Our cleaning is safe for tile floors of all types including ceramic, porcelain, travertine and limestone
It helps you avoid the expense and inconvenience of completely replacing tile floors
We clean ceramic and porcelain tile and specialize in kitchens, baths, countertops and other tiled areas of your home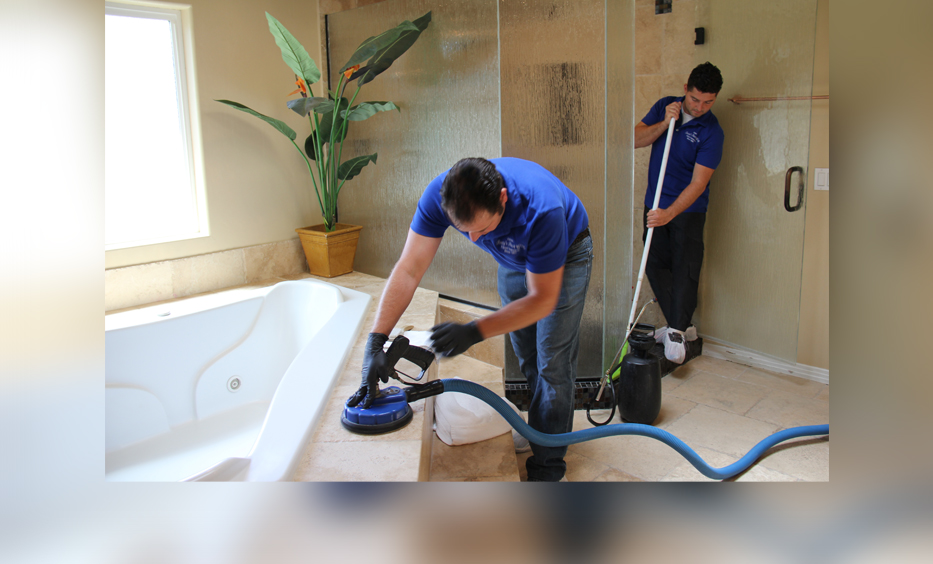 Types of tile we clean:
Ceramic
Porcelain
Travertine
Limestone
And more…
Common areas in your home that have tile:
Bathroom floors
Showers and tubs
Kitchen floors
Foyers
Entryways
Hallways
Sunrooms
Countertops
Backsplashes
Hard Surface Floor Cleaning
Various types of hard surface floors are found in many different settings from homes to offices and commercial buildings.  They are often chosen for their durability and moisture resistance and with the variety of hard surface flooring options available, there is a style, color, or pattern to fit any space.  Hard surface floors are not invincible, they are vulnerable to stains, surface damage, and fading caused by dirt and heavy foot traffic.  ServiceMaster Cleaning & Restoration by SteamExpress provides hard surface floor cleaning services for homes and businesses in Routt County, Moffat, and Grand counties, including Steamboat Springs, Craig, Grand Lake, and surrounding areas.  We use advanced cleaning equipment to deep clean all types of hard surface flooring and restore its original appearance.
Residential Hard Surface Floor Cleaning
There are many hard surface floors used in a home including hardwood, laminate, tile, and vinyl.  Hard surface floors are typically used in areas with a high level of moisture or foot traffic because they are more durable than carpeting.  However, each type of hard surface floor has cracks and crevices where dirt and other debris can gather.  As this debris accumulates, it can cause damage by ruining adhesives that keep the floor together and wearing out the finish which can cause discoloration.  Our technicians use state-of-the-art cleaning equipment to deep clean all types of hard surface floors and remove debris from the crevices.
Our hard surface floor cleaning services can produce the following results:
Clean floors with an impressive shine
Reduced wear
No surface damage such as scratches or burn marks
Better slip resistance
Effective maintenance, stripping required less often